Author's note: This post was chosen as an Editor's Selection at ResearchBlogging.org. Thanks for the support!
I don't quite have the resources to poll the United States and the rest of the world, but if I did, this is what I'd ask:
Do you know what microfluidics is?
Can you explain it to me?
Do you currently use anything with this technology?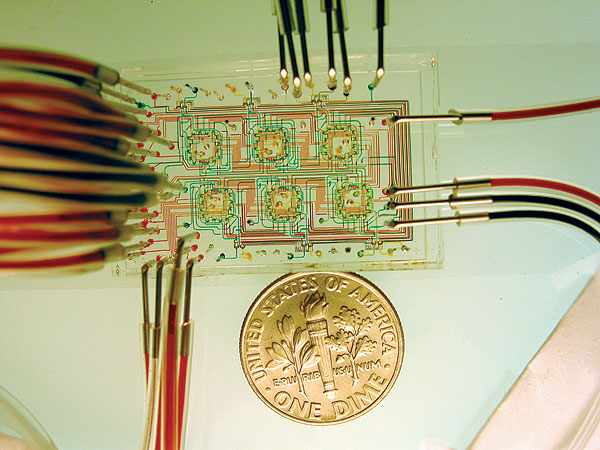 We may never know the results of the poll, but I think I'd hear "No" and "What is microfluidics?". Have no fear, because today you're lucky enough to read my Beginner's Guide to Microfluidics.
To start with, let's look at the word itself. It is the word fluidics with the prefix micro- strapped onto the front. Thus, we're looking at the manipulation of fluid at the micro scale, often flowing through channels. There isn't a strict definition, but some like to refer to flow with a channel dimension less than 1,000 µm as microfluidics. It's more complicated than that, so to guide us, I'll be referencing heavily from a review article George M Whitesides wrote in 2006, "The origins and the future of microfluidics." For those unfamiliar with Dr. Whitesides, he is a legend in many spheres including microfluidics, and if you are reading a paper on microfluidics, it most likely either cites him, or can be traced to something that does. In this particular article, he looks at four "parents" of microfluidics that have brought us to the technology we have today:
Microanalytical methods
Biodefense
Molecular biology
Microelectronics